Benji's Ancestors
Blue Eyed Dream GF
Benji's sire is Blue Eyed Dream GF a 16 hand imported cremello German Warmblood stallion. Blue Eyed Dream GF is registered/branded ZFDP, and is approved for breeding with AWR and RPSI. Dream was bred in Germany and was awarded First Premium at his inspection as a foal, as a two year old he was imported to the US. He has a wonderful teddy bear and willing to please temperment to go along with his 3 impressive gaits, witha wonderful abilty for extension and collection all the while staying supple and fluid in his dressage work. Dream is also an accomplished combined driving horse. In 2008 Dream won First Place at the Black Prong HDT Intermediate Level and two weeks later took Second Place at the prestigous CAI Live Oak International CDE at Intermediate Level ( beating a former wolrd champion!) Also in 2008 Dream qualified to compete in the USDF Dressage Regional Championships at 1st Level and 1st Level Muiscal Freestyle. Dream is proving hinself as a seriouse and versatile competitor and will be continuing his dressage education through the years to come. Blue Eyed Ghost shows the same versatile qualitys his sire posseses and will make a great asset to any breeding program.
Blonder Hans
Blue Eyed Dream GF's sire Blonder Hans is a 16.2 hand golden palomino German Warrmblood stallion. He is registered/branded ZFDP ( as Dream is) and is approved for breeding with ZFDP, RPSI, IRC, and AWS. At his stallion testing in Prussendorf, Germany he received a 10 for character and a 9 temperment (both of these wonderful qualities he has very much passed to Blue Eyed Dream GF). Blonder Hans shows 3 outstanding gaits with elasticity and impulsion, and shows beautiful form in jumping. Originally bred in Germany Blonder Hans now resideds in the United States. 
Atom
Blue Eyed Dream GF's grandsire ( sire of Blonder Hans) Atom is a 1988 16.3 hand golden palomino German Warmblood, bred in Germany, he is approved for breeding with 7 breed registries. Atom passed his stllion test in Germany with 108.7 points.
Seneta
Blue Eyed Dream GF's dam Seneta is a beautiful 16.2 hand golden palomino german warmblood bred in Germany, registered/branded ZFDP, approved ZFDP and RPSI.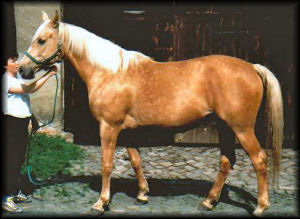 Wrummy
Benji's dam Wrummy is a 16 hand chestnut registered/branded Premium Oldenburg mare. Wrummy has produced 2 First Premium Premier foals and 1 First Premium with AWR thus far in her breeding career. She posses 75% german bloodline yet is as elgant and refined as a thoroughbred but with the elasticity and amplitude of a warmblood.. She is approved for breeding with AWR, RPSI and Oldenburg.
Wildcard
Benji's grandsireWildcard is an Elite Hanoverian stallion.
Leah
Benji's granddam (dam of Wrummy) is a 15.3 hand chestnut registered Dutch Warmblood mare. She is approved KWPN, is registered GOV and was awarded top mare at her GOV inspection. She is a daughter of the legendary dressage and jumping stallion Roemer ( recently inducted into the USDF Hall of Fame). 
Roemer
Benji's great great grandsire Roemer is a 17 hand chestnut KWPN stallion. Roemer was recently inducted into the USDF Hall of Fame. Roemer Received predicate of pref- first Preferent stallion in North American 1st place stallion on sport index for Dressage horses in Holland He is known as a international jumping and dressage competitor. He has sired of 4 Approved sons, 1 Licensed son, 4 Preferent mares, 111 Star mares, 27 Keur mares, 211 Studbook mares and 75 First Premium foals. His 100 day stallion test scores were: 100 Day Test:RT 7.5 FJ 9 J 8.5 DT 8 CC 7.5 C 10 TR 9