Training
Owner & Head Trainer: Jean Kaplan Thornton
Our head trainer Jean Kaplan Thornton earned her USDF Gold Medal in 2002 and is a USEF licensed dressage judge. She has over 30 years of experience working with horses of all types in many different disciplines. She has competed through Grand Prix dressage with her late Lipizzan stallion Comversano II Aloha II who she trained from a four year old. She has also been a top competitor in combined driving with Equivale's late German Warmblood stallion Blue Eyed Dream GF through Intermediate Level CDEs as well as pleasure driving and has competed with pairs as well as her four in hand. She has had over 3,000 hours of private instruction and has ridden almost as many different horses. Jean can help you train your horse from start to finish in dressage riding, driving and jumping. We also have an excellent team of assistant trainers including Madison Duke, Cheyenne Inabnett and Sierra Inabnett. Our staff including Jordyn Loan will take excellent care of your horse while it resides here at Equivale. Read below for on the services we offer. Click Here to learn more about Jean and Equivale. Feel free to contact us with any questions at equivalejean@gmail.com
Training/Lessons Offered
Dressage lessons for all levels of riders on your horse
Cavaletti lessons
Dressage Lessons on our FEI Schoolmasters
Carriage Driving lesson with your horse/carriage
Carriage driving lesson with our horse
Lunge Lessons for your horse
Lunge Lessons for you
Clinics at other farms
Starting horses in harness/carriage driving
Starting horses undersaddle
30+ Days Dressage training board
Competing horses in dressage and combined driving
Confidence building/de-spooking for horses of all ages.
Basic handling/halter/trailer loading training for yearlings
We believe in starting our horses slowly so we typically do some work with them as two year olds and the result when we start them undersaddle later as three year old they are a calm, willing and trusting young horse with a great foundation that will stay with them throughout their career. The video below of Equivale bred stallion Blue Eyed Ghost at 2 years old ( who was sold to New Zealand) showing our typical training program for a 2 year old horse in harness/carriage driving training.
Judging Horse Shows
Jean is available to judge schooling shows through all levels.
Equivale's Students
Mary Robinson has worked with Jean for many years and bought 4 horses from Equivale. Two are now competition dressage horses. Mary was the USDF/AWR All-Breeds AA Training Level Champion 2008 with her Equivale bred horse Cavan. Pictured above on her Equivale bred Blue Eyed Dream GF offspring Baron, winning at their first Recognized show as a 3 y.o.
Charity L. Messer was Equivale's Assistant Trainer/ Barn Manager for 12 years. She rode and trained many of Equivale's horses including Blue Eyed Dream GF and has won her USDF Bronze Medal and Musical Freestyle Bronze Bar with Dream. She also brought Dream to win the USDF/AWR All-Breeds First Level Open Champion for the 2008 Season and 3rd Level AWR Champion for 2009. She competed him through Intermediare I winning 15 out of her last 17 classes before he passed away suddenly. 
Patty Whipple has worked with Jean for several years and has bought Zebedee (pictured above) an Olympic Ferro gelding bred by Equivale. Patty has scored in the 70's with Zebedee in dressage shows and also does pleasure/trail driving with him.
Nancy Russell has joined the Equivale team in 2008. She helps out with feeding at Equivale and is an important part of our team. She is an eventer and is developing her dressage skills with Jean and her wonderful horse Faraday's Hope ( a former 4 star eventer himself).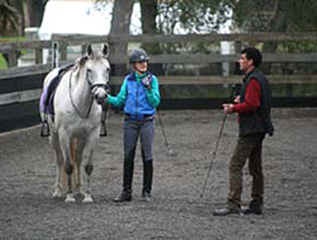 Claudia Roth a long time student of Jeans, she bought Equivale's first bred horse Toschevale a Lipizzan/Dutch WB gelding. Claudia also helps with feeding at Equivale among many other things and is a vital part of our Team. She is working at 1st level with Toscheval. (Shown above with Guest Clinician Rodrigo da C. Matos)
Robin Barr is an eventer who has been working to develop her dressage skills with Jean. She has ridden Lacy's Best One to a 3rd place win a the Region 3 Championships at Preliminary Level in 06. She is currently ranked #1 in the USEA Training Division for the Master AA group. The pair were recently awarded 1st Level AA Central Florida Dressage Assocaition Champion.
Dana has worked with Jean for several years and in 08 bought Equivale bred filly Bakara to be her up and coming dressage star. Dana also owns her own boarding /trainig facility DJ's Horse Handling.
Brittany Hammack has been working with Jean for several years now and has been an eventer and is now turning her focus to dressage. She recently purchased Equivale bred mare Malibu (shown above )to be her new dressage horse. Brittany also is an important part of Equivale's team helping with feeding and other projects.
Tammy Zegowitz-Smith has been working with Jean for over a year and purchased her Equivale bred horse Somyre Reign (shown above).
Cheryl Youngman has been taking lessons with Jean for 2 years and in that time has earned her USDF Bronze and Silver Medals and currently competes at Prix St. George.
Laura brought her horse Boone ( pictured above) to Equivale to learn to drive.
Troy Smith takes lesson on our Grand Prix Schoolmaster and is shown above taking him on the 6 mile Bess Wall Obstacle Trail Ride Challenge.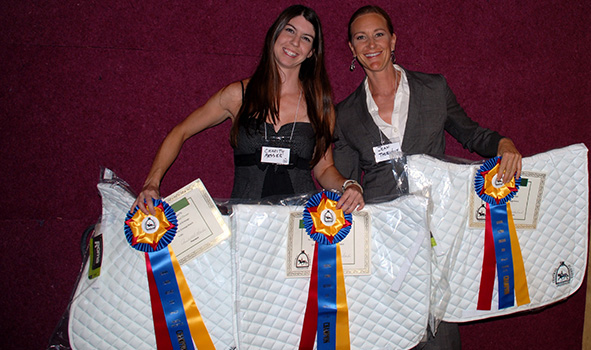 Jean and Charity accepting their awards at the 2010 Central Florida Dressage Association Banquet
Recently SIX of Equivale's horses attended the same dressage competition!
Left to right: Benji, Baron, Buttercup, Somyr Reign, Malibu and Barbados.
Equivale's horses and riders often attend lessons with Guest Clinicians.
Central Florida Dressage Clinic at Equivale with Jean Thornton
Many new horses and riders attended the CFD Clinic
Troy Smith Shown on our Grand Prix Schoolmaster, taking him through the 6 mile Bess Wall Obstacle Trail Ride Challenge April 2010.
Bess Wall Obstacle Training Clinic 2009
December2009 Clinic with Erin Brinkman, Blue Eyed Dream GF and Charity Messer.
Erin Brinkman Clinic 2009 (Hosted by Central Florida Dressage Association)
Blue Eyed Dream GF and his son Baron attend Clinic together. Erin Brinkman in the center.
Dominique Barbier Clinic (Hosted by Equivale at Silver Sands Bridle Club)
Classical Dressage Clinic with Dominique Barbier. Riders from all over Florida took part in a clinic with classical dressage master.
Dominique Barbier on Sepetmeber 10th - 12th. Domninique is known for his cool and calm approach in training horses and riders. Many riders learned to smile and relax, letting their positive energy guide them through the movements. Domnique taught riders to work their horses in-hand and as a results many of the riders and auditors saw a beautiful transformation in the horses relaxation and suppleness.
A wide variety of horse breeds, ages and levels took part in the clinic as well as many different levels of riders and auditors. Everything from a Lusitano, Arabians, Thoroughbreds, a cute Morgan, 3 year old Dutch and Swedish Warmbloods, a 4thlevel sport pony, 3 and 7 year old Lipizzan crosses, up to a Grand Prix Lipizzan Stallion ( our very own Conversano II Aloha II), and of course we can't forget our own 5 year old German Warmblood Stallion Blue Eyed Dream GF.
All in all the clinic was a great success! We can't wait for Dominique to come again!
Equivale Inc. would like to thank all the riders and auditors who participated in the clinic for making it a wonderful and fun learning experience for everyone!
Charity Messer and Blue Eyed Dream GF
Dominique long-lining JoAnn Macallum's Princess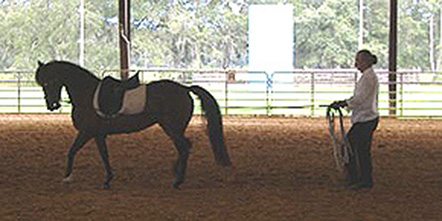 Dominique working Susan McCoy's Tonus Do Ipe in-hand