Marigold
2005 17 hand Palomino Oldenburg x German Warmlood, Approved First Premium Premier AWR Mare
As a foal Marigold was the Champion at her Inspection and was East/Southeast Foal Futurity Reserve Champion that year with an overall score of 8.1! Her sire is the deceased Oldenburg Cremello stallion Mascarpone and her dam Oldenburg Wega is by Wummestern. Marigold is currently working at 1st level dressage and has experience driving as a single, pair and even in a 4 in-hand. She has also attended equine obstacle course undersaddle, you can see the video below. She is a true solid 17 hands, a big, lofty mover and needs an experienced rider. New video of her working undersaddle below.
Marigold is now owned by Pine Farme and in 2017 has been approved and placed into the Westfalen Mare Book
November 2008: Buttercup and Marigold recently took part in a demonstration on "how to start a tandem" at the Florida Whips Workshop weekend, and did a beautiful job!
October 2008: Buttercup and Marigold recently were able to be hitched up as part of a 4 in-hand driving team alongside two pro 4 in-hand horses! It was a great learning experience for our two girls and they took to it beautifully. Buttercup was put as a leader and Marigold as a wheeler, which will hopefully be their future positions in our team of 4!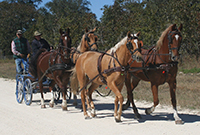 March 2011: Marigold has just competed in her first combined driving event as a pair, alongside Benji.
Morgengold I
Mega Star
Pandora
Mascarpone
Philippo
Panachee
Wembley
Werther
Wmmenstern
Welcome
Wega
Weltstern
Wendy
Donna Clara
Videos
Offspring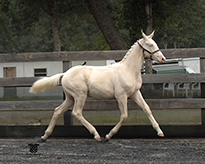 Blue Eyed Mist
April 25th 2009
Marigold's second foal by Blue Eyed Dream GF has arrived! Another Cremello Filly! She was born on a warm breezy spring night around 12:45 a.m. on April 25th, 2009. We are absolutely thrilled with this beautiful filly! Keep checking back for updates as she grows! Shown below at November 2009 AWR Inspection
Cremello Filly : Blue Eyed Moksha
On May 14, 2008 around 9:30 p.m. her first foal was born via embryo transfer, the foal is a cremello filly with the same stripe as her sire Blue Eyed Dream GF and 3 cute little socks! This is our's and Dream's first cremello warmblood filly born! She is also the first cremello warmblood filly to be born in the USA and the first to be born via embryo transfer in the world!